Pipefilter Dr Pearl 9mm 40 st
Active 9mm carbon filter for pipe smoking
Watch this product and we will notify you once it is back in stock.
Pipefilter Dr Pearl 9mm 40 st
Active 9mm carbon filter for pipe smoking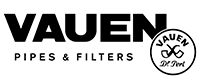 Actively working on behalf of pipe lovers
It is precisely in small things that the power of innovation can be seen. In 1921, Vauen was one of the first manufacturers to introduce a paper filter for their pipes. VAUEN has improved and developed the pipe filter and in 1934 a world first was presented, the Dr. Perl junior filter with activated carbon. A compelling innovation that, in the meantime, moved virtually all pipe manufacturers to convert their filters to 9 mm.
Vauen laid the foundation for a far-reaching trend with this invention. More than 95% of all German pipe lovers today smoke with active carbon filters. The filter has top performance in terms of filtration and dry and cool smoking with a Dr. Perl junior filter. Dr. Pearl today sells more than any other 9mm filter with activated carbon in the world.
To maximize filtration performance, Vauen has fitted all mess models with the Conex system since 1968. The plug is conical on the inside. The special design of the plug means that unfiltered smoke does not pass through. 9mm filter in a pack of 40 filters
Mer om källtextenKälltexten krävs om du vill ha ytterligare information om översättningen
Skicka feedback
Sidopaneler