Pipe VAUEN Spin black
This pipe has won a prize at the international tobacco fair in Dortmund
Watch this product and we will notify you once it is back in stock.
Pipe VAUEN Spin black
This pipe has won a prize at the international tobacco fair in Dortmund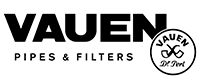 Filter pipe 9 mm
An exclusive desig pipe by Markus Bischof. Award-winning at the International Tobacco Fair in Dortmund 2015
A unique and extraordinary design. The bowl of the barrel can be turned on using a built-in magnet. A very special pipe
and an amazing craftsmanship. For those who want the absolute latest and best.
Ø: 14 mm
Length: 170 mm
Feel free to try stuffing your pipe with Vauen Luxury Tobacco