Pipe Auenland MODON
A very beautiful pipe entirely made of wood approx. 33 cm long with inspiration from The Lord of the Rings and The Hobbit
Watch this product and we will notify you once it is back in stock.
Pipe Auenland MODON
A very beautiful pipe entirely made of wood approx. 33 cm long with inspiration from The Lord of the Rings and The Hobbit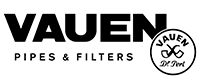 Filter pipe 9 mm
NEW Model in the famous series Auenland manufactured by German VAUEN.
Auenland (German for "meadow land") where the Hobbits live.
With inspiration from the movie HOBBIT
A very beautiful pipe entirely made of wood (approx. 33 cm long)
The barrels are made by German VAUEN